November 21st, 2014 by Cindy H
Friday mornings on WYEP, Chef Bill Fuller (Corporate Chef for big Burrito) joins Cindy Howes at 7:30am for Pairings! Bill & Cindy challenge each other to pair up your favorite music with matching menus. Let's see what they came up with this week.

Pairings Nov 21 2014 by Cindy Howes on Mixcloud
There has been no shortage of great new music this year and Cindy has been enjoying listening through and finding new favorites. For this week's Pairings she has selected one of her favorites from Ben Howard, the title track to his new album "I Forget Where We Were" for Bill to match a menu to. Bill Being impressed by the song picks out certain phrases that paint an image in his mind, such as "Thistle and the burr", "The green green grass", "Your great divide". This reminds Bill of hiking and exploring in the woods as a kid perhaps picking blackberries, packing a lunch full of delicious Hoagies full of thick sliced ham and white cheddar along with crispy apples and classic canteen water to wash it down.
Cindy's Music Pick:
Ben Howard – "I Forget Where We Were"

Bill's Menu Pairing:
Hoagies
Crispy Apples
Blackberries
Canteen water
For Bill's Menu he wants to wrap his menu around a seafood delicacy that can only be obtained this time of year. The Nantucket Bay scallop is a small scallop that can only be obtained in the late fall / early winter and have a rich, sweet taste.  Bill suggests lightly sautéed over thin pasta, sprinkled with prosciutto and bread crumbs, along with a salad and white wine. Cindy upon hearing with menu is put into the mindset of James Taylor and Martha's Vineyard. Her song pairing this week is James Taylor's "Country Road".
Bill's Menu Pick:
Nantucket Bay Scallops over Pasta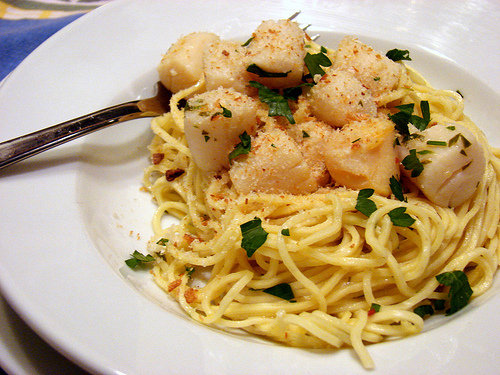 Kale Salad
Albarino Wine
Cindy's Music Pairing: